Updated 2023.
Search Engine Optimisation is the science of getting your website to rank in the search engine results. The process of SEO has evolved substantially throughout the years and the Google algorithm has undergone various changes since the early 2000s.  The Google algorithm refers to how Google Search ranks websites in its search engine results. 
The impact of each algorithm change varies in significance but it is important to note that all the revisions give us insight into the route that SEO is taking. 
In 2022, SEO has brought a new set of challenges. Optimisation techniques that may have worked previously no longer hold authority and SEO has evolved into a smarter discipline that involves more than just spamming your content with keywords relevant to your business.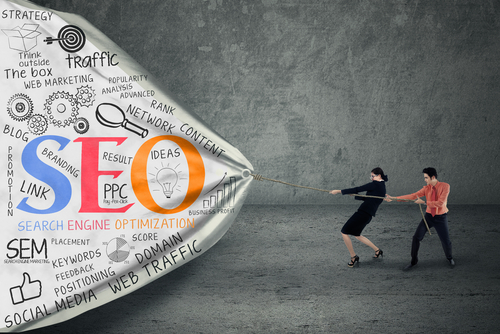 There are numerous strategies that need to be actioned in order to achieve successful SEO in 2022. 
Most of the Google algorithm changes throughout the years have been aimed at making the search engine better at judging high quality and relevant content. As machine learning progresses every day, Google has had massive success in analysing the value of content on a webpage, and this is why keywords are becoming less and less relevant. Google wants to provide its users with content that is helpful, relevant, and meaningful when it comes to their searches. They want to promote content that solves problems and answers questions – making searches as streamlined and effective as possible. 
So, how does this benefit your bottom line? By delivering high quality and thought-leadership articles, not only will you increase your website ranking, you will keep users on your website for longer periods of time. By providing this kind of value to your audience, you will get repeat visits to your site, build trust, and gain loyal customers. 
What does high quality content look like?
Google favours long-form articles that inform the viewer and establish your business as an industry thought leader. Your specialties and that of your competitors may be identical, so how do you stand out? Post regular thought leader articles to your website and share these helpful articles on your social platforms or via an email marketing campaign. By providing your clients with information that they need, and assisting them through informative articles, you quickly establish yourself as an industry authority – and Google appreciates that.
Search intent refers to the reason why a user is performing a search. Are they looking to learn something? Do they want to make a purchase? Or are they looking for a specific brand?
The job of an SEO expert is to understand the intent behind a search and make sure that the content presented on the site is relevant to the intent and helps the user. 
As mentioned previously, Google is looking to rank websites that offer value to the user. This is why downloadable e-books or e-guides are important. Blog content is shorter and easy to digest, but blogs don't allow for much in-depth information. E-book content offers the opportunity to expand on different elements of your business, expanding your authority on Google, and establishing trusted relationships with potential customers. 
A Pillar Page is the foundation on which a specific topic is built and it covers all aspects of the topic on a single page. It also offers room for more in-depth reporting in more detailed cluster blog posts, all of which will hyperlink back to the primary pillar page.  Pillar pages are created to cover a particular subject or topic, in a broader sense. For example, you may write a pillar page dedicated to a broad topic such as Search Engine Optimisation. And you may then write cluster content about On Page Optimisation, which is a more specific keyword within the SEO topic itself. 
A pillar page is longer than a regular blog post as it covers all aspects of the topic you are creating content around. The goal is to create a strong pillar page that outlines the topic and answers relevant questions, but also allows room for more detailed, related cluster content. 
On-Page Search Engine Optimisation refers to the practice of optimising a website and webpages in order to rank higher in Google's search results. On-page refers to both the content as well as the HTML source code of a page. Off page SEO refers to external signals such as links within the content. 
To achieve successful On-page Optimisation you need to consider:
A title tag is part of HTML. It specifies the title of a specific webpage. Title tags are presented on Search Engine results as the clickable headline or description of a page. These tags are vital for SEO, usability, and social sharing. The Meta Description is a small snippet of information that lies below the title in search results. This summarises the content on your webpage. 
Headings and subheadings are incredibly important when it comes to SEO. They assist the user as well as Google in understanding what your webpage offers. Always keep your headings and subheadings relevant and clear in order to do well in Google rankings using relevant H1, H2 and H3 tags in an organized manner.
External links are links on your site that direct the user to another site while internal links are hyperlinks that take the reader to the target page of your site.  Internal links will connect your content and provide Google greater insight into the structure and build of your website. External links work to build your website as authoritative and an industry thought leader.
Schema Mark-up is a specific code that you place on your website to assist the search engines in providing the user with informative and helpful results. Schema Mark-ups help search engines source the essential information on your webpage's and this not only improves user experience but it also makes your content easier to find. 
On-Page SEO helps search engines understand your website and the content it offers. It also identifies whether your content is relevant to the user's Google search. This is important to SEO in 2022 because as search engines become more advanced, they place greater importance on relevance in their results pages. 
Google's first priority is the user and valuable content that helps the user. As the years have gone by, Google algorithms have become advanced enough to source the best content for the users' search. Essentially, Google wants to create the best possible experience for the user.
A way to improve the user experience on your site and help your SEO efforts is to ensure that your website has effective structure, architecture, and navigation. Users should be able to find what they are looking for on your site easily, and in order to do this, your website needs to be designed in a readable and easy to use way.  Strong site architecture and design will keep users on your website for longer periods of time. A great rule of thumb is that your user should be able to find any page on your website in 3 – 4 clicks. 
Make sure that your website is responsive across all devices. People access Google on a variety of devices, from mobile phones to desktop computers. Google ranks websites that have been optimised for mobile devices higher in mobile searches.  Content that is written for desktops only, does not look the same on a tablet or mobile device. More mobile searches are being made than ever before, and your website needs to be optimised for this. 
Incorporating a responsive website will take time, effort, and energy, but it's worth it if you want to rise in the Google ranks. Google has stated that they will place more emphasis on mobile sites, and if you don't create a site that is optimised for mobile, you will find it harder to rank. 
Learn more about Google's mobile-first indexing, here. 
A lot is changing in 2022 when it comes to SEO, and Nexa is here to help you get your website ranking.
We want to help you rise up the search engine ranks. But we don't only want to offer you an optimised website – we want you to own the search engine results.
If you are looking for Search Engine Ownership, contact Nexa today. 
How to get your website ranking in 2022
In Conclusion
Content is King
On-Page Optimisation
User Experience (UX) and Site Architecture
Build a Responsive Website